Traits Of An Agile Leader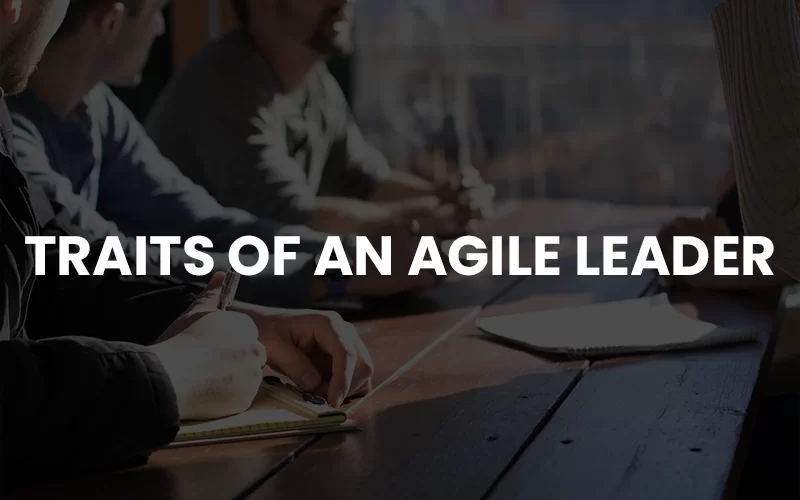 Many big industries like information technology, aerospace programs, banking and finances, constructions, government projects, etc are adopting agile . Now the question arises, what makes agile philosophy so demanding? The answer is simple, zealous agile leaders who are passionate about working on agile methods. These agile leaders are competent in creating trust in people and building a flow of transparency in the organization.
They are great mentors who open the door of agile for thriving minds, who are ready to create new and valuable products by using agile methods. To achieve great products, sometimes they have to face constructive criticism. Fulfilling clients' demands and objectives is the priority of agile leaders. Agile leaders guide and support the new creators as they understand the true value of agile. Agile leaders are those who stick to an agile agenda and make sure it happens. Agile leaders could be Scrum Master, Product Owner, Product Managers, Agile coaches, etc. They have years of experience and practice, hence they help the new budding minds in starting a career in Agile and keep pushing the agile community in the right direction.
Let's Discuss some points to become the ideal Agile Leader
1. Team work make the dream work
A major responsibility of any scrum leader is to keep the team together. A leader should not only talk about himself or his work; a true leader is someone who helps others to understand their responsibilities and work and mentor them to take the right path. Self-organization suggests that an agile team is not supposed to be supervised or told what to do by someone senior. Instead, the team should work effectively and efficiently together.
A successful agile team should work together without causing any chaos or conflict and complete the task in the given time. Scrum Master builds trust between the team and constantly encourages them to make their own decisions. Critical thinking and decision-making in pressure are deep-rooted in agile teams.
Scrum Masters do not manage their team round the clock. They give responsibility to every individual in the team. This method will help the team to take major decisions without waiting for managerial approvals.
2. Keeping transparency priority
In the Conventional method, only the project manager used to have all the information about the project and the developing team is not fully aware of the project's mission. In most cases, developers don't even have a proper idea of the project they are building. But with the first pillar of agile i.e transparency, things have changed in the workplace. From developer to project manager, everybody in the team has a clear vision of the project that they are working on.
Leadership comes with many responsibilities, some might be hard. An ideal leader should be open to constructive criticism and should encourage honest feedback. The leader should be quick to open and shift the project again if needed, and hot to trot to adapt to any changes. Uplifting transparency at the workplace is the key attribute of any leader. A leader must have a clear objective of what they want to achieve with their team at a decided period and use it to galvanize the team.
3. Open to suggestions
In past years there were many groundbreaking inventions and methods which came up from small ideas or experiments. Mere suggestions in the present might become breakthrough ideas in the future. An ideal leader should be open to any type of suggestion. Having an open mindset for accepting new ideas from the team and other people in the organizations, works as a plus point for the leader.
Various methods of agile such as scrum, lean-agile, SaFe do not demand planning, as agile philosophy is based on finding a unique method by experimenting and research. This new way of working helps the agile team to start the project just with an idea and later develop something valuable from it. Hence this sort of method demands an open-minded agile leader.
4. Cross-functional Alliance
An ideal agile organization comprises many teams which collaborate to form a final product. These Cross-functional teams include- developers, marketing team, business analysts, quality analysts.
The prime role of an agile leader is to uplift and guide every team member to achieve the given objective. Handling cross-functional alliance is surely a strenuous task but also crucial for project success. An agile leader facilitates communication between all the cross-functional teams. With smooth communication between teams, many hurdles like delays, defects, partially done work, errors get eliminated.
5. Be There Guiding Light
When beginners join the agile industry, it would surely be an overwhelming experience for them. All the procedures and practices of frameworks of agile might confuse them. An agile leader should make sure to encourage them and mentor them. An agile leader is responsible for explaining all the frameworks, tools, and techniques to beginners.
Mentoring takes a lot of time and patience, which is also an important trait of an agile leader. Instilling confidence and trust in a person and helping them understand their capabilities are the key role of an ideal agile leader.
Conclusion
By increasing agility and using an agile mindset, any business can expand and earn more revenue. Qualities like critical thinking, open mindset, problem-solving, on spot decision-making are the essence of an ideal agile leader. By adding a great leader to the organization, the business is set to grow and expand in the future.