SAFe 6.0: What's New and What Has Changed in the Latest Release of Safe Agile Certification?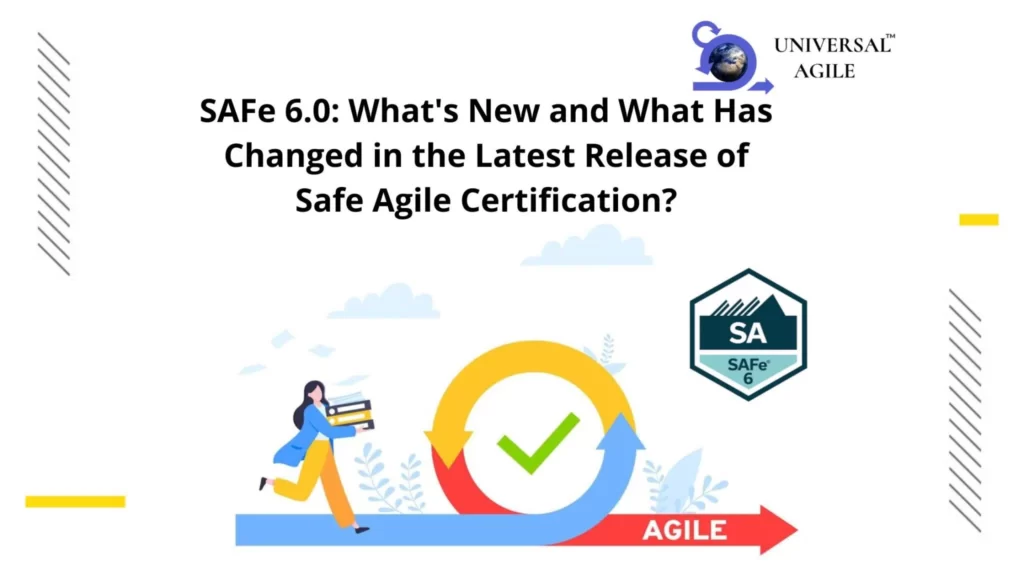 The pandemic's extraordinary circumstances served to highlight a long-standing truth: Businesses are constantly faced with change. Because of rising customer demands, complicated supply chains, and the effects of digital technology, change is occurring at a faster rate than ever before and is becoming more unexpected. 
SAFe framework has become crucial for adjusting to change, fostering resilience, and thriving as a modern, digital corporation for thousands of international enterprises and governmental entities. Continuous scaled agile framework certification evolution is necessary to meet the changing market conditions. While we'll never lose sight of SAFe's key advantages, our advice is always being updated to handle fresh issues.
Welcome to SAFe 6.0! In addition to a new Big Picture (BP) and terminology revisions, SAFe 6.0 is a thorough update from version 5.1. It contains numerous new and advanced practices.
Six main themes make up the SAFe 6.0 upgrade:
1. Strengthening the Foundation for Business Agility 
The revisions to the core components of business agility, such as the Business Agility Value Stream and SAFe Foundation, are among the noteworthy changes in SAFe 6.0. With these adjustments, the way to deal with change is made clearer, and the fundamental ideas of business agility are better understood overall.
A new feature of SAFe 6.0 that helps to clarify what business agility entails is the Business Agility Value Stream. The stages taken to develop a minimum viable product (xMVP), validate it, produce it, and deliver a market opportunity are shown in the value stream. This value stream helps participants understand business agility and offers a more organized method of delivering business value.
Nonetheless, the Business Agility Value Stream is a useful addition to SAFe 6.0 that makes it simpler to comprehend the procedures required to enable business agility.
The scaled agile framework certification foundation has been modified, which is another key change in SAFe 6.0. Value, Innovation, Relentless Improvement, Respect, Flow, and Leadership were all topics covered by the SAFe House of Lean, but it has since been decommissioned. Eliminating SAFe Hours of Lean makes it simpler to learn the essential ideas of business fundamentals by minimizing information duplication. The six Lean principles that form the foundation of the framework's Lean idea have been further developed in SAFe 6.0. This clarification offers a more thorough justification of these ideas, making it simpler for everyone to comprehend them.
In particular, SAFe 6.0 has expanded the sixth SAFe principle, which stresses flow. Tools for flow diagnostics are included in the new content to assist firms in better understanding and enhancing their flow. This notion is now expanded upon at all levels of SAFe, highlighting its significance to the framework.
The SAFe Implementation Roadmap and the SPC (SAFe Program Consultant) role have both undergone changes in SAFe 6.0. The Implementation Roadmap, which has been revised to take into account the changes in SAFe 6.0, outlines key steps for implementing the framework. Roles have been significantly streamlined, and more implementation toolkits have been introduced. In particular, the Implementation Roadmap is only one aspect of SPC's function. 
2. Strengthening Teams and Clarifying Roles
SAFe 6.0 delivers updated recommendations to boost worker productivity and meet organizational objectives. The key adjustment is that team coaches, who were formerly known as Scrum Masters, can now be used to refer to team leaders. The duties of the Team Coach/Scrum Master have also been expanded to include facilitating PI planning, supporting organizational agility, optimizing flow, creating high-performing teams, and supporting iteration execution.
For better categorization and clarification of role domains,safe scaled agile framework certification includes a "Responsibility Wheel" in each role article. The numerous duties of each function are simpler to comprehend thanks to this feature. A critical collaborative collaboration is now mentioned in the modified role articles for Product Management, Solution Management, System Architect, and Solution Architect to support a speedy and effective product development flow. Clarifying the roles and encouraging improved teamwork are the effects of this adjustment.
3. Accelerating Value Flow
One of the key goals of SAFe 6.0 is to offer high-quality goods and services more quickly while also eliminating delays to increase the flow of value to customers. Eight flow accelerators and eight flow attributes are defined in the modified SAFe Principle #6. The flow promoters consist of:
Restricting and visualizing work in progress.
Solving bottleneck problems.
Reducing dependencies and handoffs.
Obtaining quicker feedback.
Utilizing smaller batch sizes.
Shortening the line.
Maximizing "in the zone" time.
Eradicating outdated procedures and regulations.
Flow has been included in teams' daily work in SAFe Scrum, SAFe Team Kanban, Built-in Quality, and Value Stream Management articles. To increase flow efficiency and speed up value flow, these flow accelerators are developed at several levels in SAFe, including team, agile release train, solution train, and portfolio level. For instance, the flow accelerators are used at the team level to improve team flow and at the portfolio level to improve portfolio flow.
4. Enhancing Business Agility with SAFe across the business
A Lean-Agile transformation affects every area of a business, according to safe scaled agile framework certification. While progress is made in one area, impediments in other areas are revealed. As a result, everyone in the organization must learn how to maximize their productivity by implementing Lean-Agile principles that are appropriate to their context, such as working in small batches, streamlining flow, organizing around value, incorporating quality, and embracing systems thinking.
The new Business and Technology article includes five business and technological patterns, including launching business trains, applying SAFe to other business activities, forming an Agile leadership team, and integrating development and operational value streams inside the same portfolio.
Moreover, SAFe offers exhaustive Development Value Stream recommendations. Access articles written by SAFe professionals that describe their accomplishments and problems in extending Lean, Agile, and SAFe methods to non-Technology business functions including finance, marketing, human resources, legal, and operations may be found on the SAFe Beyond IT homepage.
5. Building the Future with AI, Big Data, and Cloud
New guidelines for integrating the three disruptive technologies of AI, Big Data, and Cloud have been released by SAFe. Businesses need these technologies more and more to compete in the present and the future. The SAFe articles go into great detail to describe these technologies and show how they may be used within the framework.
Big Data is positioned at the Lean Portfolio Management level, where it may be used to identify initiatives that foster organizational agility and make business decisions. Cloud is positioned at the team level where its many capabilities can be used for good purposes. The SAFe guidance discusses how to use Cloud technologies within the framework even if many firms may already be doing so.
The paper on AI is applicable at all levels and demonstrates the effectiveness of AI in decision-making for product development and organizational agility. The SAFe advice is an important technological tool for those who still need to begin using these technologies, even though some businesses may already be familiar with them. It also illustrates how these technologies are included in the framework by SAFe.
6. Delivering Better Outcomes with Measure and Grow and OKRs Measure and Grow
The Measure & Grow component of SAFe, formerly known as the Metrics icon on the spanning palette, has recently undergone a makeover. SAFe's three measurement domains—Outcomes, Flow, and Competency—are now included in the updated Measure & Grow curriculum. There used to be a misunderstanding regarding the Measure & Grow and Metrics sections. Teams can more effectively measure their outcomes at the theme, business initiative, or epic level by combining these two sections and emphasizing OKRs.
Core Values & Principles
With SAFe 6.0, two new core values have been included. People & culture come first. Because an organization cannot exist without its members (and vice versa). The basic value of unceasing improvement has also been incorporated. This refers to the attitude and capacity to maintain the flow both individually and within a team of teams.
Scrum Master to Team Coach role
The role of the Scrum Master has also been modified in the new framework. The Scrum Master is more broadly defined and known as Team Coach in SAFe 6.0. (instead of Scrum Master). This is an appropriate change given that a Scrum Master uses more than simply Scrum in their techniques, frameworks, and practices. Building transparency among team members and within the team is one of the team coach's primary concerns.
The Team Coach performs several crucial tasks, which include enhancing team effectiveness and the agility of the Agile Release Train (ART). Furthermore, supporting the Iteration executives and supporting and measuring the value flow are important jobs.
Conclusion
Thus, Scaled Agile must maintain an in-depth awareness of the ongoing change that major organizations confront to ensure that SAFe continues to meet the increasing issues and modern realities that they face, today and in the future. As a result, the framework may constantly change to meet the demands of the people, groups, and organizations that use it.
FAQs
Who is SAFe 6.0 intended for?
SAFe 6.0 is intended for organizations that want to implement agile practices at scale. It is particularly useful for large organizations with multiple teams and departments that need to coordinate their efforts.
What are the benefits of implementing SAFe 6.0?
Some potential benefits of implementing SAFe 6.0 include improved alignment between business and IT, faster time-to-market, increased productivity, improved quality, and higher customer satisfaction.
Is SAFe 6.0 suitable for all types of organizations?
SAFe 6.0 is designed to be flexible and scalable, so it can be adapted to a wide range of organizations. However, it may not be suitable for very small organizations or those that do not have a significant need for agile practices at scale.
How does SAFe 6.0 address remote work and distributed teams?
SAFe 6.0 provides guidance on how to work effectively in remote and distributed environments, including recommendations for virtual collaboration tools and techniques for maintaining team communication and alignment.
Can SAFe 6.0 be combined with other methodologies, such as DevOps or Lean?
Yes, SAFe 6.0 is designed to be compatible with other methodologies, and provides guidance on how to integrate DevOps and Lean principles into the framework.
How does SAFe 6.0 address organizational culture and change management?
A: SAFe 6.0 provides guidance on how to build a culture of continuous improvement and agility, and includes recommendations for change management strategies to help organizations successfully transition to agile practices.
What resources are available for organizations that want to implement SAFe 6.0?
A: Scaled Agile, Inc. provides a variety of resources for organizations that want to implement SAFe 6.0, including training and certification courses, online communities, and consulting services. There are also many books, articles, and other resources available on SAFe 6.0 and agile development in general.