Planning Agile With Discussion And Opinion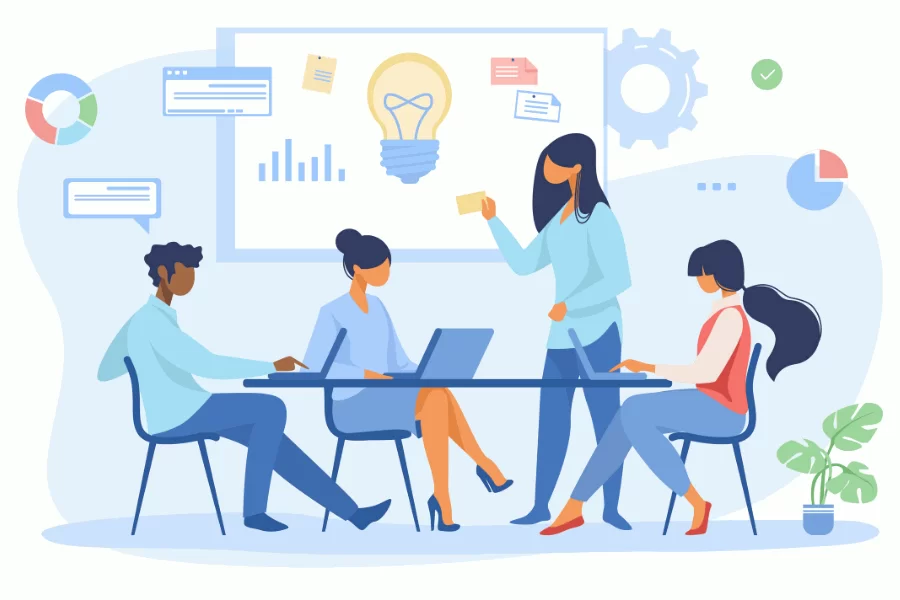 Industrial sectors have adopted an agile mind-set for its efficiencies, better ROI, and fewer expenses for more than a decade. However, many companies understand agile as a daily scrum meeting, smaller team, etc. But what they don't understand is that agile is beyond that, it empowers employees and is all beyond hierarchy.
 Learning Is Important
At present time, covid holds us all in our homes from work from home to online classes everyone is stuck in their home. According to a source, kids now are performing better than their previous performance. They are taking more interest in their classes and getting less tired. They are performing better and consistently when they are not competing with other students and working on their past results and efforts. Like that when we work with agile philosophy we need to fit in a non-competitive agile mindset to enjoy its benefits. Changing deadlines according to customer demands, intruding on the team's work, etc works against the philosophy of agile.
 In this blog, you will learn a few important metrics to measure agile.
Measuring Benefits Of Agile
Measuring benefits of agile consists of many tangible and intangible things like
How can you measure the profit like customer happiness?
How can you measure the value of the results of the work you do?
How much ROI increases with the use of agile?
ROI on agile depends on the reason you shifted to agile. Going agile brings many intangible outcomes like customer happiness, team happiness, customer satisfaction, and employee productivity.
Guidelines to consider while measuring agile benefits
Expedition– if the developer expedites the product faster, then they are working best at the same cost. This result can be measured through delivery timing and gives you an insight into how the agile transformation is affecting your ROI.
Measuring happiness– a country like Bhutan measures the gross national happiness of its people, so it is important to keep a check on the happiness of the employees. But happiness is not easy to track down as employees cannot be happy every day or every time. So in this scenario, observing their way of working is a technique to measure their happiness. If they are working happily and if they are not overburdened and delivering their work on time are a sign of happy employees. Happiness is the center of a creative and productive team. While unhappiness is the state of command and control group.
Recommendations– what is the cheapest way to get promoted? By getting recommended by someone. Measuring your customer's happiness is equally important. And if your customers are recommending your products and services to others then it might mean that they are happy with the product and services.;
Team coordination– prior pandemic team coordination was important but after the pandemic, it became an essential part of working culture. How close team members are and how effectively they are using technology to connect is also an important metric.
Who will take questions?– Taking questions from your customers is an important part of any business. No matter how much hard work you are putting on delivering a product, however, if you don't take feedback and questions about the product you are doing are all wrong. You need to go through agile principles once again.
 Conclusion
Agile is much more than just sprint meetings and discussion and planning. Agile is about balance. Agile makes sure that employees and customers are getting satisfaction. The agile philosophy empowers teams and supports flat hierarchy while keeping in mind market realities.