Introducing SAFe 5.1: What's new and how it improves agility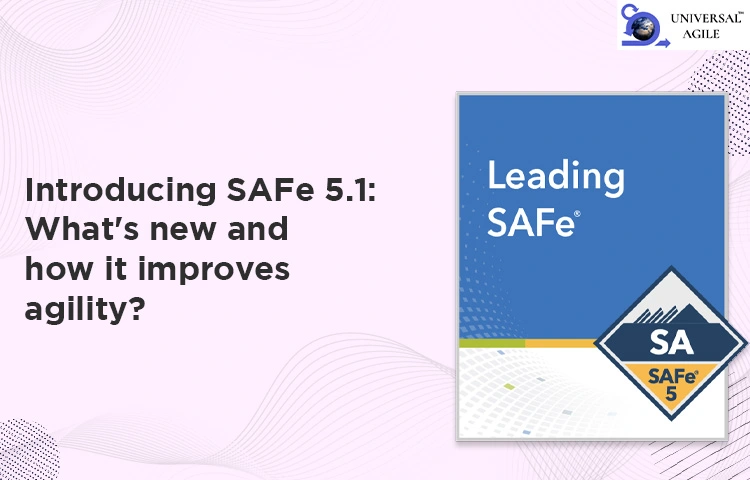 Introducing SAFe 5.1: What's new and how it improves agility?
Scaled Agile Framework (SAFe) is a popular framework  used by organizations to improve their agility and deliver products and services faster. SAFe 5.1 is the latest version of the framework, and it brings several new features and improvements that can help organizations achieve even greater success.The focus on business agility and the redesign for client centricity in version 5.1 makes it special. It also extends portfolio management capabilities from Agile viewpoints beyond technical function.
SAFe agile framework as we'll learn from Universal Agile aims to implement business agility in addition to Agile product delivery. This was done on the theory that old company structures, hierarchies, and infrastructure might not be able to keep up with the present pace of globalization, market changes, disruption, and technological advances. This is made up by business agility, which enables business owners to assign finances, make quick, legal decisions, and match the right people with the right jobs.
In this blog post, we'll introduce SAFe 5.1, highlight its new features, and explain how they can help organizations improve their agility and become more competitive in today's fast-paced business environment. Whether you're new to SAFe or an experienced user, this post will provide valuable insights and tips for getting the most out of the framework.
Concentrating on Business Agility
The ability of a company to swiftly and effectively adjust to shifting market conditions and consumer demands is referred to as business agility. In fiercely competitive economies, this is crucial for businesses to maintain profitability and grow.
Business agility necessitates creative business solutions involving all levels of the organization, including business and technology leaders, developers, IT operations, legal, marketing, finance, support, compliance, security, and others. Agile approaches must also be used to make gradual changes, respond to user input, and constantly add products and services to keep customers satisfied.
SAFe agile framework is designed to make the adoption of business agility easier by putting a strong emphasis on customers, innovations, and growth. It includes a second operating system that utilizes value streams rather than departmental silos. By doing this, the creative network is given the speed and invention that characterize entrepreneurial processes while maintaining the stability and order of a hierarchical system.
New level: SAFe Essential
Scaled Agile integrated the Team and Program levels into a new "Essential" level by using the motto "Train Everyone, Launch Trains," which was taught throughout SAFe training. Without deploying at least one Agile Release Train, you cannot implement SAFe (ART). The ARTs were located at the Program level, but the team level was where the ARTs' developers were located. Trains cannot run without passengers, and SAFe agile framework cannot launch without an ART. The decision was made to merge the preceding levels into a new level dubbed Essential SAFe to ground the framework in practical realities.
We believe that this adjustment is the most logical because even SAFe training highlights the "Essential" components of SAFe. This new level defines SAFe, aligns everything, and offers individuals a great place to start. Since the only way to effectively expand agile methods requires agility at the portfolio level as well, we would recommend an essential version of portfolio management as a lightweight place to start.
Updated core competencies
In keeping with the agile concept, SAFe 5.1 offers two new core competencies. The first term known as organizational agility involves expanding agile beyond development teams to include the entire organization. A culture of continuous learning supports a learning organization and embraces an innovative culture in addition to delivering on the competency's primary focus area, "relentless improvement," which is a pillar of the culture.
The adoption of organizational agility, with a focus on agile teams beyond engineers, is something we believe is necessary going forward but is also one of the most challenging for businesses to execute. Setting a strategic strategy and vision while remaining open to changing it based on facts will be necessary for this type of implementation, which may be unsettling for many.
Given that businesses must answer to boards of directors and shareholders who need linear one-, three-, and five-year plans, it will be interesting to observe how this plays out in practice. This won't mean "do not have a plan," everyone in leadership should understand; rather, it means "be willing to establish a plan, and then alter it swiftly, when the data shows you should."
New framework "roof"
If an organization adopts SAFe agile framework, according to Scaled Agile, it must also embrace the Portfolio level of SAFe to achieve full business agility. Due to the absence of the Portfolio level from two levels—Essential and Solution—Business Agility is not included. For a corporation to attain business agility, according to Scaled Agile, these levels are insufficient.
The hold on rigid multi-year and annual planning must be released for portfolio agility to occur. This is similar to agile at the team level in that it means you plan but can change those plans fast.
Customers and markets are moving more quickly than ever (and will continue to accelerate their movement as new technologies emerge and more information is consumed). If your business can't adapt to your customers, you run the risk of being left behind by competitors who can. You won't be able to meet your clients where they are if your business plan keeps moving forward while they are turning right.
SAFe's newest component, Measure & Grow, assists businesses in conducting a business agility evaluation to determine where they stand in their agile transformation. You can prioritize the SAFe work that will underpin your transformation by measuring where you are and focusing on where you need to grow.
Emphasis on the needs of the customer
Scaled Agile included Customer Centricity and Design Thinking under the new Essential level of SAFe. SAFe has put more of an emphasis on structuring your ARTs on the value your customers obtain than on other types of structures (such as the organizational chart, or established product teams). The fundamental idea of the Essential level is that everything begins with the client.
Building the ARTs on value streams is advised by SAFe because they all center on what the client receives from the business. It's wonderful to see that the customer's visual representation has been elevated to the Essential Level of the framework.
New principle: organize around value
With the addition of the additional principle, organized around value, Scaled Agile has expanded from nine to 10 fundamental principles. This is the first time that value stream mapping has been specifically mentioned as a key SAFe principle. Previous editions of SAFe addressed value stream mapping and structuring teams around value.
Understanding how your clients receive value from your products (from trigger to payment) is the aim of value stream mapping, which is followed by the construction of your teams and ART around that stream of value.
Although it's encouraging to have this as a guiding concept, we believe that this is the SAFe element that clients require the greatest assistance with.
The foundation of SAFe is having an accurate value mapping exercise, yet customers frequently modify value streams to fit their current teams rather than the other way around. In large organizations, it makes sense since it may necessitate a personnel reorganization; such changes can be challenging to accept.
What has changed?
Fundamental skill: Lean Portfolio Management
The Lean Portfolio Management core competence underwent extensive improvement to better highlight how businesses use LPM as a step toward achieving business agility. They expanded the previous version's Portfolio Canvas by adding a new area of concentration called "Portfolio Vision." A mechanism to record strategic themes, objectives, and key outcomes (OKRs) is also being introduced.
Rearranging the components
Reviewing the entire SAFe framework reveals that the various elements have been streamlined and better aligned with one another to reduce redundancy and confusion. The framework's left side now features the main players and components, with a larger focus on roles. These roles were separated and shifted to the left of the SAFe frameworks because nothing in SAFe can be accomplished without putting the needs of the people first.
Core competencies that have been updated: DevOps, Business Solutions, and Lean Systems
These two fundamental skills have undergone renaming and revision. The core principles of Agile Product Delivery (formerly known as DevOps) remain substantially unchanged, with a stronger focus on the "agile product manager." Enterprise Solution Delivery (formerly known as Business Solutions & Lean Systems) has undergone a significant rewrite with stronger content focused on bringing large solutions to the market, including systems and solutions engineering, coordinating trains and suppliers, managing the solution lifecycle, and focusing on living systems.
Renaming
A few sections have had their names changed to better reflect the focus's goals. For instance, the final stage of the SAFe Implementation Roadmap is now Accelerate (previously Sustain and Improve). Portfolio Vision is a focus area at the Portfolio level (previously Portfolio Canvas). These modifications are intended to convey the focus area's actual goal.
Companies wishing to spread their agile techniques across the enterprise should follow Scaled Agile's launch of SAFe 5.1.
FAQ
Q1 What is customer centricity?
The Agile principles have always placed the customer at the center. However, this wasn't sufficiently translated into SAFe since, as one scaled the framework upward, the construct of the "client" surfaced in various tiers. Similar to how it is in the APSM (Agile Product & Solution Management) certification, Design Thinking has been given a major place in the framework "Big Picture." The SAFe organization is now challenged to go outside and "Go See" in the environment around it like never before, along with various other techniques that thrive on close customer feedback loops.
Q2 What is continuous learning culture?
Ans Several underlying competencies, including Innovation Culture, Learning Organization, and Relentless Improvement, are codified in this new competence. This readiness to take nothing for granted and to never consider improvements "done" is now raised to a principle skill. Exploring, embracing, and implementing SAFe is obviously already a big endeavor.