Good Scrum Master vs. Great Scrum Master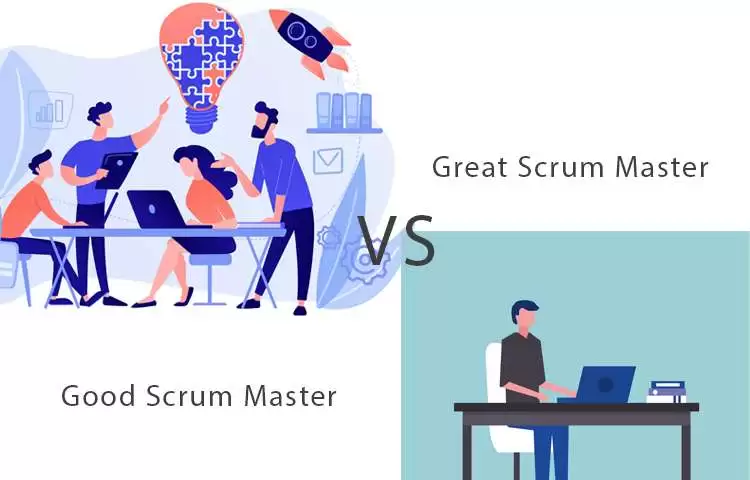 Confused after reading the heading? Let's dive in and see what the real difference is.
Scrum Masters are generally expected to have certain qualities and not everyone will fit in and match the criteria. So, earning a Scrum Master Certification is not all, practising it is the real challenge and the real mastery involves the below mentioned qualities stuck to a person to be called as a good Scrum Master:
Communication – Being good in communication not only involves being good in spoken language, also
includes qualities of listening, responding, comprehending, presenting, summarizing, repeating, writing, observing, enthusiastically energizing, simplifying, critiquing, asserting. Each and every conversation that happens with a good scrum master must be meriting by itself.
Responsibility – Representing a team is not a child's game and it is a very big responsibility. Only if you do some justice to the role, you will be accepted as a leader and you will also be able to stand tall and proud to present the team when they achieve success. Being responsible also means accepting the mistakes and correcting them with full positivity.
Servant Leadership – Yeah, haven't heard of a servant leader, have you? But real leadership involves being humble and kind to the team members and getting the job done in a very stylish manner. This is like a dream come true but yes, this kind of leadership is the ideal one for being a good scrum master.
Neutrality – Validation and Merit should be the only basis for any decisions even if they are on the difficult side.Being neutral without judgement and giving equal importance to both good and bad is really important for a good scrum master. Appreciating the goodness and giving constructive comments on the bad stuff will improve the whole look of the team and the work.
Detail-Oriented – Giving solutions to a problem is one of the major tasks of a scrum master. In order to do so, he/she should be detail oriented which will determine the solution to a problem that maps the strategy of implementation. A good scrum master should also be able to switch gears between too much details and minimal details.
Multi-tasking – To regulate and manage catch ups and planning for the next sprint and delivery, you must be good at time-managing, people-managing, task-managing and various other things. In simple words multitasking is a necessary quality for being a good scrum master.
Prioritizing – Being able to prioritize what and how to prioritize is the most important quality of a good scrum master. The scrum master should always prioritize improvement in each sprint, as Mark Twain said: "Continuous improvement is better than delayed perfection.". Delivering a working product and improving it every time is at the core of the agile scrum concept. Prioritizing and managing expectations is essential to delivering the best minimum viable product and maintaining good relationships.
Solution – If a team needs a scrum master, what is the reason? They will need an initiator, facilitator, and problem solver in their daily meetings. If not, everyone will continue to talk and nobody will be able to resolve the issues. Taking the lead and solving issues related to the team's work and facilitating progress is what a scrum master should do.

Having seen what qualities make a good scrum master, now let's look at what makes a great scrum master:

Here is the acronym made up by Geoff Watts, RE-TRAINED:
Resourceful, creative, and must remove impediments.
Enabling, always willing to help others.
Being tactful and diplomatic is a must.
Known for integrity, respected by all.
Alternative is poised to promote a counterculture
Inspires others and keeps up enthusiasm.
Nurture, love to help teammates grow and develop.
Empathic, attentive to others' feelings and situations.
Creatively disrupts the norm.

Other qualities can be very well described in one-liners:
Involves the whole team in every step of the project.
Understands the team development process very well
Respects the principles more than the practices.
Takes the right measures when there is a conflict.
A dispensable and wanted person on the team.
Understand the situation well before coming into the picture.
Encourages possessive culture in which everyone develops ownership.
Let the team see a fall and learn from their own mistakes.
Has a strong belief in self-organization skills.
The one who knows when to be silent and observe and then shares experiences at the right time.
Has a huge list of varied retrospective formats.
Being a coach, mentor and a teacher at the same time.
Influences people at all levels and one who leads by example.
Who doesn't show off his own self and allows leadership to thrive.
Facilitates and iterates the process by gelling well with the product owner and development team.