Navigating the Agile Release Train Operating Model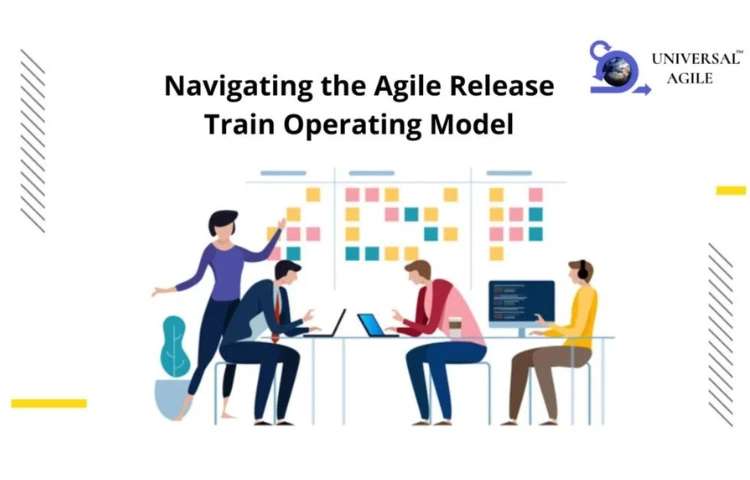 Agile frequently starts with small teams that are committed to making unique contributions to the total.Long-lasting cross-functional teams that are committed to delivering value in a certain value stream or set of value streams become necessary eventually. Delivering value that scales at the corporate level requires the formation of Agile Release Trains (ARTs), teams made up of numerous Agile teams aligned to a common objective
The Scaled Agile Framework is used by the Agile Release Train, a super-group comprising many Agile teams. One must deploy the SAFe® framework in their organisation thoroughly if they want to take full advantage of the ART's potential. Without SAFe, the agile trains cannot run.
The Agile Release Train is one of the numerous terms and approaches to investigate inside the Agile world. You might be curious as to if the ART's goal is to encourage teamwork and force participants to adhere to a shared release schedule. Or a strategy for bringing together various teams for a sprint schedule? Or a means of providing value while deciding which features would be used? Exists a primary job that must perform all the duties, similar to the RTE Agile? In this blog of Universal Agile, we'll do our best to respond to all of these queries.
Definition of Agile Release Train (ART)
Let's begin by defining the Agile Release Train. An Agile Release Train is a group of Agile teams that collaborates on a long-term plan designed to help agile teams self-organise, as well as plans that the teams commit to and work on together.
All value streams are organised and carried out via the SAFe Agile Release Train. They collaborate with the client to produce solutions that are as valuable as possible. They cooperate to attain a single objective, making sure to do everything within the time frame allotted.
They've got:
Typical vision
Backlog of programmes
Roadmap
An ART can have a total of 50–125 members who would collaborate on the same goals and initiatives. The PI and its relationship to the ART would now be the topic of discussion. PI is another term for "programme increments."
The PIs assist in developing the timebox. The cadence is used, and:
The PI is responsible for delivering the work. Every train is assigned a unique mission that continuously defines, develops, and tests the capabilities. It is completed for every iteration, not just one. The engineer of the release train manages everything.
Key ART Principles
Now that we are aware of what the agile release train's primary function is:
They facilitate team alignment.
Even after the product is delivered, they continue to assist in managing all risks.
They offer synchronisation and cadence at the programme level.
These factors, as well as the acceptance and approval of the norms and guidelines that are consistently followed throughout, serve as the foundation for all of the principles. All teams must now validate these common operating principles and adhere to the same set of instructions. These guidelines have been approved by the entire team and distributed to the agile train release. All of this is completed during the 2-day PI planning period.
Investigate the ART Principles:
1. The timetable is set
The ART keeps to a regular schedule and is prompt. A feature can be added to the following schedule if it doesn't make the release schedule it is supposed to be in.
2. An incremental system change every two weeks
Every two weeks, new system increments are delivered by all ARTs. The System Demo is used to evaluate these increments.
3. Applying synchronisation
Teams on the Agile Release Train follow synchronised timetables that frequently have a same start and finish date and can span anywhere from 8 to 12 weeks.
4. The Train Travels at a Known Speed
The amount of features that can be supplied in a single PI may thus be easily estimated, to put it simply.
5. Agile Groups
Agile teams use a variety of built-in quality methods, including Kanban, Scrum, XP, and others, and are, in theory, in line with the Agile manifesto.
6. Committed Folks
The passengers on the ART are committed to the train, regardless of their particular roles and tasks.
7. PI Planning in Person
The Agile Release Train often holds monthly, in-person meetings as part of PI planning events.
8. Planning and innovation (I&P)
IP iterations usually come after the conclusion of a programme increment in order to allow for an estimated guard band and to provide time for planning, innovation, and other activities.
9. Examine & Adjust (I&A)
At the conclusion of a PI, an Inspect & Adapt event also happens along with IP iterations. Through problem-solving workshops, solutions are examined and assessed, and any modifications that are necessary are planned for.
10. Create on Demand, Release on Cadence
With the application of this idea, a solution is released on time even though research and development may have erratic timelines.
An Agile Release Train's Structure (ART)
A number of Agile teams work together as the Agile Release Train to complete a variety of activities, including designing, testing, and developing solutions as well as deploying, releasing, and operating them. Depending on their choices, these teams use a variety of Agile techniques. These include Extreme Programming (XP), Scrum, and Kanban, among others. Scrum Master and Product Owner are two distinct responsibilities that are part of every Agile team.
Agile Release Trains are by nature cross-functional and structured around developmental value streams. The following SAFe® rules on team composition are put into effect to make sure that the flow of value is not impeded:
Temporal and synchronic relations
The servant leader is a release train engineer, in case you were wondering. The chief scrum master would be the servant-leader. They are not like the typical scrum masters, yet they have the upper hand. You are aware that while the release train engineer, or RTE, would manage all the teams, the scrum masters would direct and control one team at a time. 
The release train engineer and the scrum masters would meet to discuss the performances and other tasks. They must manage all teams while keeping an eye out for their deliveries. Whatever the case, they ought to be able to manage risks, offer solutions, offer advice, mentor, and lead the ART in a servant leader capacity.
They must plan the PI as well. They must guarantee that all jobs are completed and delivered within the agile train release's time constraints. Stakeholders, with the aid of RTE or the release train engineer, would be fully aware of the PI planning, iterations, and system demo dates. Many people are curious about the release train engineer salary after receiving the corresponding certification. Without a doubt, it will advance your career and increase your pay.
Product management follows next after the RTE. A plan, a vision, and new features can assist them carry out the duties and observe what gets developed. The product management team considers the entire programme backlog.
A plan, a vision, and new features can assist them carry out the duties and observe what gets developed. The product management team considers the entire programme backlog. Working with product owners and customers, they must understand their needs, communicate them, and validate solutions in line with those needs.
The system includes architects and engineers, who typically work in teams but may also work alone. They must view the system's architecture. The proprietors of businesses follow afterwards. The firm owners prod the team to see what its results are, how it is doing, and what else it needs.
They are the owners, as the name implies! They are the main participants and accountable for the release train's results. Later, we will have customers for whom we will complete all of the jobs and assemble the goods.
System teams must be managed within the Agile train release as well. These system teams, what are they? System teams are in charge of everything that is being created, developed, and tested in the test environment, along with the many roles and features that have been defined. It is gradually and steadily built.
Shared services are also available. Personnel such as data security professionals, information architects, and database administrators fall under the category of specialists (DBAs). Despite the fact that they are not effective for a particular ART task, they are nonetheless crucial. The task cannot be continued without them.
The problems associated with ART are numerous. People must work in compliance with this and ensure that all jobs are completed safely and effectively. Everyone is required to comply with their various obligations, each of which is different.
Conclusion
Adaptive Release The train is extremely complex and requires extensive teamwork and moral leadership. With the aid of SAFe, it must be followed. You might question who plays the main role within the ART, yet everyone contributes in some way. 
It might not work if someone cancels. It's crucial to remember that ART is a collaborative and excellent communication art. Instead of just performing the assigned duties, cooperate with the team's values and create a professional environment.
FAQs
Q1 Why Use an Agile Release Train (ART)?
An agile team with a lengthy lifespan called the Agile Release Train (ART) works with other stakeholders to incrementally create, deliver, and, when necessary, operate one or more solutions in a value stream. A collection of Agile teams working cooperatively toward a common objective is known as an Agile Release Train (ART). The enterprise level value delivery function is crucially dependent on ARTs. They include all groups (expertise) needed to develop, test, and distribute software and other outputs.

Q2 What are the three steps to starting an Agile Release Train?
The three crucial programme events of inspect, adapt, and test maintain the Agile Release Train (ART) on track. This activity comes after each PI planning activity. The PI Planning also includes system demonstration (a new system increment).